---
---
Some time ago I became interested in Nissan Cedrics. Yeah, I know it's not amateur radio related, but someone will be interested.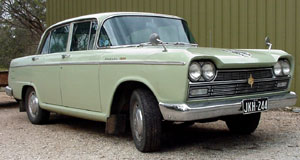 1965 - The first Nissan Cedrics to visit Australia were the 1963 to 1965 models or Series 31. A positive earth, 12V electrical system with an alternator, 4 speed, no synchromesh on first, reverse H pattern gearshift on the column, a 1900cc, H20 4 cylinder engine and 14 inch wheels.
This particular vehicle was driven daily until April 2002 when I purchased the 1984 model shown below. It was due for a bit of work and I couldn't take it off the road long enough to do it. The vehicle was sold to Alean Bent of Planet Cedric fame and was then completely restored. Try a Google search for
Planet Cedric
to see how the restoration went.
I also have two 1963 models, one of which is complete.
---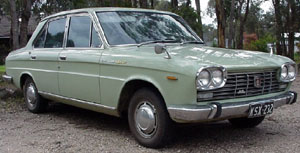 1967 - The P130 was the second Cedric series in Australia from 1965 to 1968. Now sporting a negative earth electrical system, 3 speed all-synchro or automatic gearbox, a 2000cc, J20 6 cylinder engine and 13 inch wheels. The Cedric name was dropped mid 1966 in favour of Datsun 2000.
This vehicle was driven daily until a few years ago and is fitted with the original English-made Borg Warner 35 auto transmission. It is starting to get a little tired and will soon need pensioning off.
I also have a couple of other examples including 3 station wagons and a twin Hitachi-SU carburettor, OHC, L20 2300cc engine, disc brakes, overdrive and separate heater for the rear passengers 1968, Super Six model under cover that I would like to restore some day. However, the right offer would probably see me part with it.
---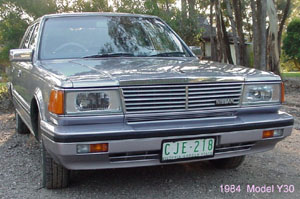 1984 - The last Cedric series to be imported to Australia was the Y30 series kicking off in 1984. Lockup torque converter automatic gearbox with overdrive, cruise control, power steering, air conditioning, all power assisted disc brakes, electric windows and mirrors, 4 speaker stereo system and a fuel injected, VG30(E) 3 litre V6.
This vehicle was purchased to provide a little more towing power than the 1965 model above could provide. If you look closely at the chrome trim on the leading edge of the bonnet (directly above the grille badge) you will see what hitting a kangaroo with a full lockup skid from 100kmH does. No repairs have been made. The kangaroo was flung about 10 metres through the air into the scrub beside the highway.
Created 2004 by Kevin Crockett. Comments and suggestions may be e-mailed to